Essential Steps for Registering a Foreign-Owned Company in Thailand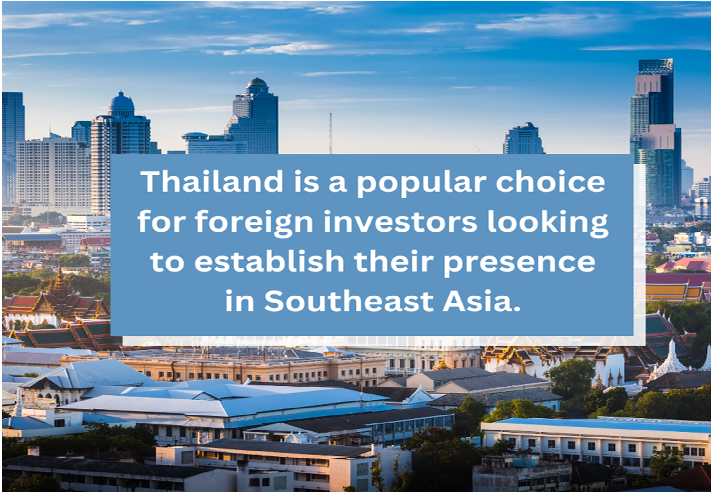 Setting up a company in a foreign country can be a complex process, but with the right knowledge and guidance, it can be a smooth and successful endeavour. Thailand, with its favourable business environment and strategic location, is a popular choice for foreign investors looking to establish their presence in Southeast Asia.
Here are the essential steps you need to follow if you are considering registering a foreign-owned company in Thailand:
Conduct Thorough Company Registration Research:
Before diving into the registration process, conduct research on how to set up a foreign-owned company in Thailand. Familiarise yourself with the legal framework, regulations, and restrictions that apply to foreign-owned businesses. Acquiring this knowledge helps you navigate the process more efficiently.
Reserve a Company Name
The first step in the company registration process is reserving a unique company name with the Department of Business Development (DBD). The name should not resemble or be identical to any existing registered partnerships or companies. It must also comply with specific naming restrictions and guidelines. To increase your chances of success, suggesting three names ranked by priority is highly recommended.
Prepare and Sign Documents
Once you have reserved a company name, the next step is to prepare the necessary documents for registration. These documents include information about the proposed company, such as the company's objectives, registered office location, share capital details, and details of the promoters and directors. Ensure that all information provided is accurate, up-to-date, and complete.
Register the Company
With the documents prepared and signed, it is time to register the company with the relevant authorities. The processing time for registration varies depending on the specific nature of your business. Once the registration is complete, you will receive the registration documents along with a company/tax ID. It is advisable to engage the services of a reputable service provider like Reliance Consulting to assist you with this process and ensure compliance with all legal requirements.
Open a Company Bank Account
Open a company bank account in Thailand to facilitate smooth business operations. You will need to select a bank and branch, specify the type of account required, and provide the needed signatories. Having a local bank account enables you to manage financial transactions and ensure compliance with local banking regulations.
Register for Corporate Income Tax and VAT
Once your company is registered, you must apply for a company corporate tax ID card from the Revenue Department within 60 days of incorporation or the start of operations. You may also need to register for Value-Added Tax (VAT) depending on your business activities and revenue. Proper tax compliance helps you avoid penalties and maintain good standing with the authorities.
Social Fund Registration
If your company has employees, both Thai and foreign, you need to register them with the Social Security Fund (SSF). This registration is required within 30 days of hiring your first employee. Provide the necessary employee details, such as ID cards, workplace photos, salary, and position information. Failure to register staff within the specified timeframe can result in penalties.
Visa Application
You will need to assist foreign directors or staff members with securing the relevant visas if you plan to have them working in Thailand. Your registered and tax-compliant company can act as a sponsor for a Non-Immigrant 'B' visa. This visa allows foreign individuals to legally stay and work in Thailand.
Work Permit Application
In cases where a work permit is required, you have to assist your foreign employees with preparing the necessary documentation. This includes obtaining a medical certificate from a Thai doctor, providing education certificates, and furnishing details of the employee's salary and position.
Conclusion
You can navigate the process of registering a foreign-owned company in Thailand with confidence and compliance by simply following the essential steps discussed above. However, the registration process may vary based on the specific circumstances of your business. Consulting with a trusted company registration firm, such as Reliance Consulting, ensures a successful company registration process in Thailand.